BRANDED SOCIAL EXPERIENCE AT THE HEART OF THE NEXT GENERATION MODERN MOUNTAIN VILLAGE
We are working with ValueRock to redefine and rebrand this 86 acre residential development in Utah as a four seasons town center destination with a unique social content for a large, emerging residential market. We started by first establishing a visionary, but practical, definition of future success that defined aspirations; a true authentic offering; and a branded experience that would uniquely resonate with our key customers.
We then prepared an RFP and invited four planning firms and four design firms to submit credentials, methodologies and initial fees. Each firm was required to create a full project team with the same expertise. Three teams were selected and paid to meet with the developer and create initial diagrams that explained their methodology for creating an iconic destination unique to the this land. Planners and architects often have different approaches to creating value and destination. We wanted to have both methodologies represented.
In the end, we selected the internationally acclaimed design firm, LakeFlato, that is uniquely qualified to take the local, vernacular architecture… the mountain village style… and transform it for a more design conscious, sophisticated and socially aware customer. And, we hired the international acclaimed firm, SmithGroup, to be the master planner. They brought a unique approach to creating an iconic destination in harmony with the land and a keen understanding of the science behind water and energy usage. Together with a complete development team that also included IBI, a local but renowned architecture and planning firm, and InterCommunications, as the branding firm, this development team will help ValueRock transform the market and create an exciting, successful international destination.
A successful "re-branding' of DMB&B, a global advertising agency, that uses design and the progression through space to tell a compelling story about the agency and its clients. Starting with a reception area designed as a very cool urban loft complete with sophisticated use of video and modern objects to make the client re-think their perceptions of the agency... to a conference room that forces you to be "creative"... and finishing with a series of "found" spaces designed to be rooms that would induce the "creatives" to come out of their offices and play together. Voted the best corporate office renovation within D'Arcy organization world-wide. New interiors, furnishings, and lighting systems... all on a $34 per square foot budget.
Voted D'Arcy's best renovated office world wide
"First time an agency was designed around how people actually work"
"We are now passionate about this place"
New interiors, furnishings and lighting systems... all on a $34 per square foot budget
AIA Design Award
Plaza Frontenac is a Neiman Marcus / Saks Fifth Avenue anchored two level mall in an affluent suburb of St. Louis that needed to dramatically expand its customer base and extend visitation. We provided a leasing strategy that focused on home and food with new outwardly facing white table cloth restaurants, a day spa, fine arts cinema and a range of tenants that crossed over demographics and ages... while positioning the center to complement the surrounding retailing. A new design was created that supported the leasing strategy and appealed to both the existing older customer and the new, younger customer. The renovation started a small revolution by bringing a new level of hospitality to retail environments.
"The renovation puts Plaza Frontenac on the cutting edge of mall design" Urban Land Institute
460,000 SF of retail
$3,000,000 construction and furnishings budget
$150/SF increase of in-line sales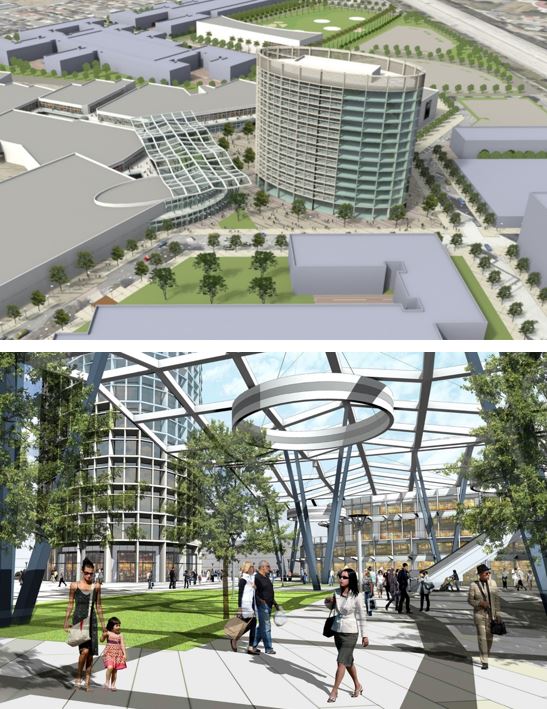 1.2M SF mall finds itself in an over-saturated market with limited geographic reach. Ownership wanted to "right-size" the mall with a 30% reduction of in-line tenants and one anchor tenant. To this reduction of retail, we reclaimed the asphalt parking and surrounded the truncated mall with thousands of people in immediate walking distance. This is a significant advantage and will enhance retail sales for the remaining shops. Maintaining a viable customer circulation pattern and an exciting retail experience is essential. Integrating a wider mix of uses directly into the heart of the shopping mall transforms the shopping experience and creates tremendous new value with an unassailable market presence and renewed regional draw. The improved performance of remaining shops and a potential share in upside development of non-retail assets is a strong incentive for mall ownership to collaborate. Providing residential, office and hotel developers strong sites is an incentive for them to collaborate. Anchor tenants either want to convert to residential or know that transformation of the existing shopping center model is necessary for the mall (and themselves) to succeed. All parties profit if they pursue their own enlightened self-interest. Not always an easy sell. But the supply of malls is large, and the future is inevitable.
300K SF reduction in under-performing retail including one anchor tenant
136K SF new specialty and entertainment retail plus hotel
250 key new hotel
650K SF of new medical office in three buildings
1,200 new residential units in three buildings
$400M in new asset value
Southeast Financial Center is a sixty story office building designed 40 years ago for a 45 year old white male who signed leases back then. It is an icon building clad in grey granite with white marbles floors. Not the kind of aesthetic that resonated with 32 year old Latino men and women signing leases today in Downtown Miami. We re-designed the three public lobbies creating a more sophisticated environment... along with a unique offering of public meeting spaces for individuals, groups, tenants, events and the larger surrounding community.
Stemmed the tide of tenants leaving the building
Increase leasing
Increase rent rates
SFC became a social and business hub for its community
Brentwood Square Shopping was a struggling community shopping center in suburban St. Louis that was re-positioned as a "lifestyle" center and secured its place as the "heart" of its community. Each store was designed specifically to resonate with the customer base and individual tenant that ranged from an arcaded Whole Foods to a hand-finished tilt-up REI. And, we secured every targeted tenant in the center, except one. The project set a new standard for modern retailing design in the region, although it was built on an average cost of $65/SF to $85/SF.
Set a new high standard for rents in the region
Paid its TIF off in half the time
Became the "heart" of its community
Paric Construction and McEagle Development corporate headquarters consisting of four companies under one corporate umbrella. It is the "anchor" building of a new "town center" development within an existing master planned community. The client required a unique physical environment that would appeal to the "knowledge worker" that high tech industries struggle to find and retain. Attraction and retention of key employees is the second biggest cost to business and any development that improved an employer's ability to attract and retain would have significant leasing advantages. In order to respond to the core values and "lifestyle" of these "knowledge workers", the building was given a modern "urban loft" feel with dramatic, exposed trusses that support a double curved metal roof with clearstory. The building is engaged into the hillside and moves upward with the land to create covered and surface parking with office space on three levels. The client occupies the top floor with expansion space leased out in the interim. The building parti was conceived to provide entry/identity to the four companies and increase interaction between staff. This was accomplished by a more open and communicative office experience that encouraged staff to interact with each other during daily events in work rooms, conference rooms, rest rooms, "hospitality" areas, and reception... all organized around a central space that included booth seating, bar seating and high-tech touches that tell the story of the "family of businesses". Construction budgets were very tight and required extensive value engineering and creativity between the architect and the contractor.
"This building increase our creativity and efficiency so we can compete in the future"
"Changed our company's culture in a positive way"
"A design concept that encourages collaboration"
Renaissance Place is a city block, mixed use development including five separate buildings whose uses include stand-alone retail, office space and market-rate apartments over street-front retail; all over a below grade parking garage owned by the city. It was an early P3 and a great exercise in giving a city the substantial benefits of comprehensive development without the look and feel of a big development. We were successful in establishing the urban "patterns" and standards that will inform and guide future development… including an important mid-block promenade with "addresses" for the apartments and offices complete with terrace and balcony overlooks and on-grade restaurants. This project is different than most "new urbanism" projects because it is a simple (but affluent) suburban downtown environment like hundreds around the country. It enables a traditional mix of uses... retail, housing, offices, restaurants, and cinema... to succeed because of a careful placement of retail, commercial addresses, and amenities to create a successful "economic engine" that will support the local community. Consistent with the underlying goals of new urbanism, this project does not take on the look of a "big development"... but rather maintains the scale and character of the existing urban fabric complete with local vernacular architecture for each of the five buildings that comprise the development. The project survived two years of public review and approvals, peer review, and dramatic value engineering. The public review process was especially difficult, but resulted in a better project and a larger public awareness of design. As a standard for future buildings, Renaissance Place has already improved the quality of subsequent development and design. Just as important, existing merchants are experiencing dramatic increases in customer traffic and sales and new tenants have exceeded their original sales projections… and the "life of the city" is visibly flourishing anew.
Pre-leased before ground-breaking
26 new retailers relocated to the downtown within the first year of operation
6 new residential developments in the downtown were started within the first year of operation
Highland Park comes together as a "community" right here at Renaissance Place
ULI Handbook on Place Making
ULI Handbook on Town Center Development
ULI Handbook on Mixed Use Development
Dolce Vita Porto is a 1.8 million square foot mixed-use development in Antas... a historic district in Porto, Portugal... and is truly a breakthrough design for a commercial development: an avant-garde design that rises above commercial mediocrity and achieves a much wider definition of success.
The city of Porto in Portugal is home to the FC Porto Dragons, one of Europe's leading soccer teams. Their stadium is immense and creates a wall of concrete many stories high. Adjacent, literally built into the side of a hill, is Dolce Vita Porto. The stadium's tall concrete walls created an overwhelming presence against which Dolce Vita Porto could not easily compete for on the street. Left without scale, generous budget, or wiggle room on the site, Michael Mindlin needed a unique answer. And furthermore, three times a month the facility would be swamped with 60,000 "happy" hard-core soccer fans… potential customers for the restaurants and entertainment venues… but visitors that could not be allowed to overwhelm the more traditional shopping environments within. Important considerations revolved around the need to accommodate this surge of soccer fans and manage their distribution within the development. The parti, developed to create an enclosed "urban plaza" that is highly visible from the adjacent freeway… gives the project a pivotal public and civic role… and creates an appropriate arrival for the soccer fan. This urban plaza also created important connections and "addresses" for the hotel, residential, and retail components. The retail "building" was designed as an elliptical vertical atrium served by below and "side-saddle" parking structures with immediate access to all levels of the shopping center. There is no "mallway" and almost every tenant is on a "center court" space… improving sightlines, visibility, and average rent rates.
Michael arrived at a unique concept that was a study in transparency, translucency, and opacity… with a physical quality to the light that is brought into the spaces through a wide range of glazing systems and meant to be a modern "gothic cathedral" for social interaction. To this, he added an unprecedented level of computer controlled lighting systems. Michael's parti integrated a series of simple, elegant geometric forms that gracefully collide to give each a strong visual identity. Michael, with partner David Suttle, designed the entire structure to provide an environment of changing light and color that was an integral part of the architectonics of the building's parti.
The shopping centre is an elliptical, vertical atrium space that rises from below the ground to break through the roof of the facility. The true "shopper" coming from the stadium is given direct access to the retailing… but must walk up a gentle series of steps. The sports "fan" still in a "sporting frame of mind" is given the path of least resistance and walks down the hillside… captured by the grand urban stair hall. Each of the elliptical walkways that project into the atrium space is a bolted, cantilever, steel and glass structure. Underneath these translucent glass walkways are both up lights… giving the translucent glass floors a mystical shimmer… and down lights providing adequate illumination for the floor below.
At the top of this elliptical space is a "folded butterfly" ceiling of perforated metal panels that provides a "gossamer" effect allowing some views beyond to the trusses supporting the ceiling. It changes effects… almost disappearing when viewed against the exterior vertical glass walls… and providing just enough form to finish the ceiling of the space. On the fourth level of the atrium is the cinema, restaurants, and food court. The food court culminates in a projected round café that has neon lighting accenting its form and making it appear to "float" in the space. Across the void is the cinema, which has been designed as a series of large, jagged, translucent walls that protrude into the void and are entirely back lighted…, giving the cinema a presence that is understandable from any point in the atrium. Controlled, again, by lighting software, these jagged walls change constantly and provide for a wide variety of "moods". At the lowest level of the atrium is an elliptical fountain that was designed with integral lighting to create a wonderful range of effects including a mist that hovers in the space. Taken all together, these dramatic forms and materials, carefully accented by special lighting systems create a constantly changing environment that makes each visit to Dolce Vita Porto a new experience.
Opened fully leased
Foundation for district wide revitalization
Destination experience for Southern Europe
Urban Land Institute's Top Ten International Entertainment & Retail Destinations
American Institute of Architects Distinguished Award
ICSC International Innovative Design and Development Award
ICSC European Design Award
The HealthCare Village is founded on a belief in the essential need to change culture… to change the culture in which healthcare is delivered to the American public. To be successful, any dramatic change in the healthcare delivery system will require a change in the value our society places on healthcare and healthcare professionals. We can increase that value by putting health in the forefront of our daily experiences… at the center of our communities. The HealthCare Village is the "town center" at the heart of master planned communities, including the first NFL branded residential development. Such a compelling presence requires a real physical expression with an entirely new point of reference. It must offer to a wide range of people a comfortable and appropriate level of hospitality and convenience in a setting that can be widely interpreted in ways familiar to all customers. It is our belief that such a physical expression is not a "commercial" environment, nor is it essentially a hospital environment, as we know it today. It is an entirely new concept and sense of place.
By providing a new mix of medical, complementary services and some important community functions, we insure that people will come to accept the HealthCare Village as an important cultural and community asset. By mixing healthcare services into a lifestyle event that brings customers and their families to the Village weekly, we insure that healthcare and wellness is never far from one's consciousness.
REPOSITION
IT'S ALL ABOUT A UNIQUE EXPERIENCE... and a new business model
This southern California location is in a successful and established community that has experienced relatively slow growth in recent years. And, its housing stock is not attracting and retaining a wider population base. This community shopping center has lost some anchor tenants and is not positioned for the future of community retailing. It is, however, adjacent to a wonderful jogging and bike path along a flowing creek that connects much of the town. And, its somewhat counter-intuitive that this amenity, at the back of the site, should be the "brand"experience for this development.
We propose renovating the existing back retailing "strip" into four efficient and "hip" buildings that include a range of F&B, a food hall and a continuing education facilities. Demolishing the small, in-between tenant spaces creates views to the hillside and creek and brings this environment into the heart of this new community. Creating a new internal "main street" that connects to the adjacent sites bring frontage presence to these retail and food shops. This also creates unique gathering spaces for socialization and seating for a food hall along a new and generous boardwalk connecting the creek, its walking trails all the new entertainment, retailing, food, educational and medical office buildings. This will allow the development to begin with an easy conversion that brings immediate cash flow to help fund the next phases of development… and creates anticipation of exciting new things to come.
The linear park to the creek and amphitheater links the current frontage road to the residential, retail, entertainment and education along the boardwalk and trail activities. It is also a perfect venue for food trucks, art fairs, farmer's markets and public events. The adjacent road is raised and lined with bollards to create easy access and, at times, a secured area for events. Continuing education is thought to include a lecture hall, art studios and other teaching opportunities sought by the adjacent seniors as well as the larger community. A new, modern medical office campus on the boardwalk overlooking the creek and fronting on the current frontage road provides city wide services, but also immediate care to the adjacent senior community. A new multilevel parking garage services medical offices during normal business hours and parks retail, restaurants and events during evenings, weekends and holidays
The culmination of the main public gathering space is a City owned performing arts center. It can be as simple or expensive as is desired… but fundamentally provides another venue for local and regional productions that will bring the larger community together at the creek. The amphitheater is a visible commitment by the City and the community to the future vitality of the arts in this city.